Blind Scream returns as a haunted House of Superstitions to Santa Rosa
Visitors who allow themselves to be lured into a haunted house in Santa Rosa may be met by La Llorona, evil witches and black cats— 13 black cats, to be exact.
Though the number 13 is considered an unlucky number to some, the owners of Blind Scream intend to celebrate their 13th year offering a haunted house experience to Sonoma County. This year's theme: The House of Superstitions.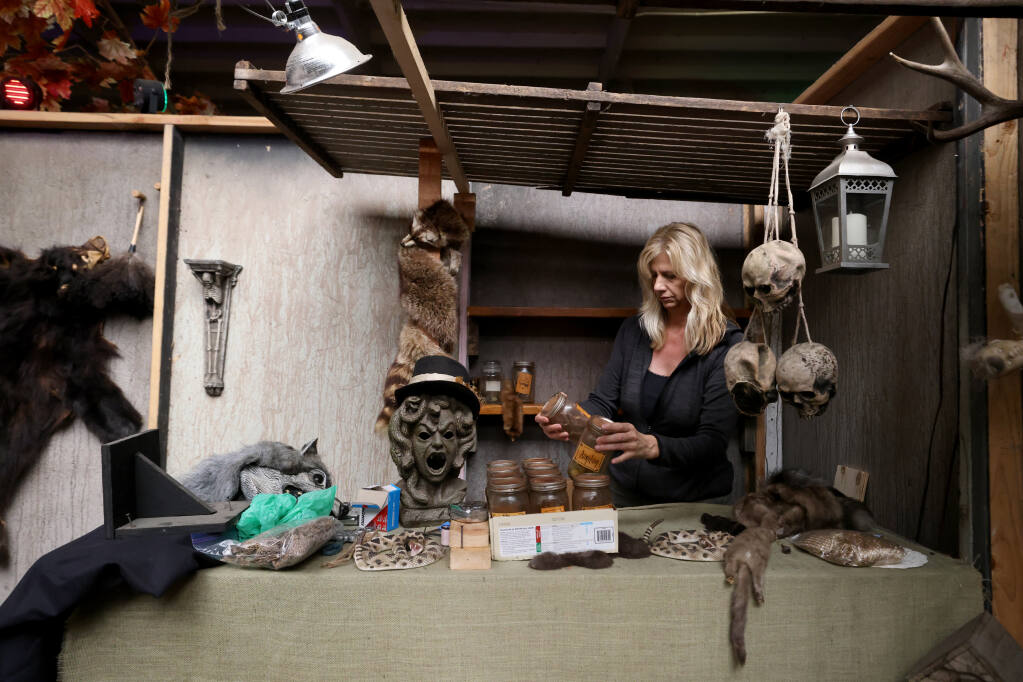 "We don't claim to be the scariest, but we claim to be the halloween-iest," said Drew Dominguez, co-owner of The Blind Scream. He and his long-time partner, Judy Groverman Walker, will open the haunted house on Oct. 7. It will run for 13 nights to commemorate this special year.
This team brings to life the story of Doc Hunter, an evil doctor, his three sisters and their creepy family. No two years are alike in the ever-evolving storyline.
In 2021 they introduced La Llorona, after an actor suggested they add her.
In popular folklore, La Llorona is always a grieving, ghostly mother but there are many variations explaining her grief. One version depicts a woman who drowned her children in a river in a jealous rage after she discovered her husband's infidelity. She realized her fatal mistake too late and soon killed herself, only to become a ghost who snatches children who either cry too much or wander late at night.
This story dates back to at least the 1500s in Mexico, though it's widespread across Latin America.
A superstition that is alive and well
Groverman said they redid some rooms to bring La Llorona's story to life. Considering the prominence of Sonoma County's Latino population, the addition made sense.
Dominguez said when he has warned past visitors to watch out for La Llorona, "they almost hit the floor because they don't want any part of that lady."
The superstition is alive and well.
"It's really important for us to reflect our community or be able to include our community," said Groverman Walker.
What started as a small, homemade passion project between Dominguez and Groverman Walker grew into a community of volunteer builders and actors, many who return year after year.
One crewmember, Walter Howard, joined In 2010, the year after Blind Scream's first haunt.
"I came in initially wanting to see what it was about," he said. Howard's returned ever since.
A "theater kid" in his youth, he was in search of a way to keep acting as a hobby, which he now gets to do at least once a year. Howard's past roles include a clown, a werewolf and an apothecary owner.
"It's like having a secret identity - like superheroes," Howard said.
A scary and welcoming experience
Other returners include Rosa Landeros and her husband Angel Perález, from Sebastopol. For years the couple visited the haunt at its various locations. In 2019 they auditioned and have returned every year.
Landeros was originally cast as a fortune teller and has played that role ever since. She dons heavy makeup, a big skirt and plenty of jewelry to get into character.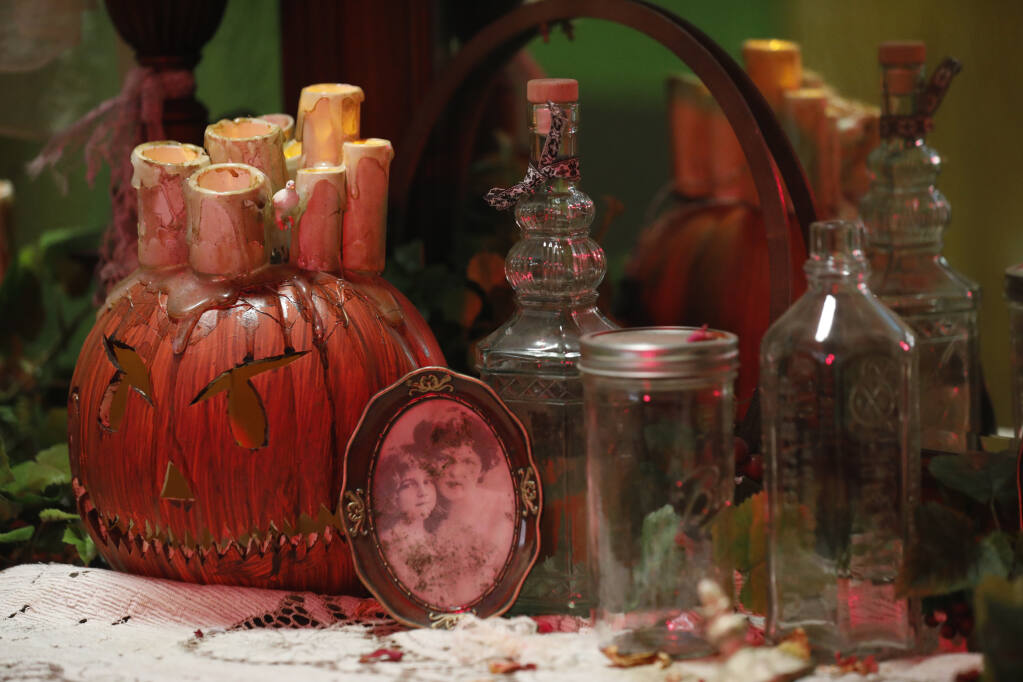 "I have been preparing for this role for years," said Landeros with a laugh. "I was born for it."
She "trained" for this role from years of making her own costumes, playing a similar role at a local carnival and reading scary stories to her daughter.
As spooky as the haunted house is, Landeros, Perález and Howard all valued how welcoming the experience is.
Dominguez and Groverman make sure the house can be easily traversed for visitors in wheelchairs. They also let local groups such as churches, high school sports teams and a roller derby team participate as actors, whether it's one night or multiple nights.
"We don't ever turn actors away if they can handle it. We cast them as something," said Groverman Walker. There's a minimum of 27 acting roles to be filled each night and actors range in age from 10 to 70.
A fun and great time
Younger audiences who aren't ready to go through the haunt will have a chance to see the actors in costume. Many Blind Scream thespians will participate in "Trunk or Treat," a free Halloween event organized by Officer Tanya Wagner from the Santa Rosa Police Department.
The Veterans Memorial Building parking lot will be transformed into a Halloween drive-through on Oct. 26 at 4 p.m. that will include music and actors in costume.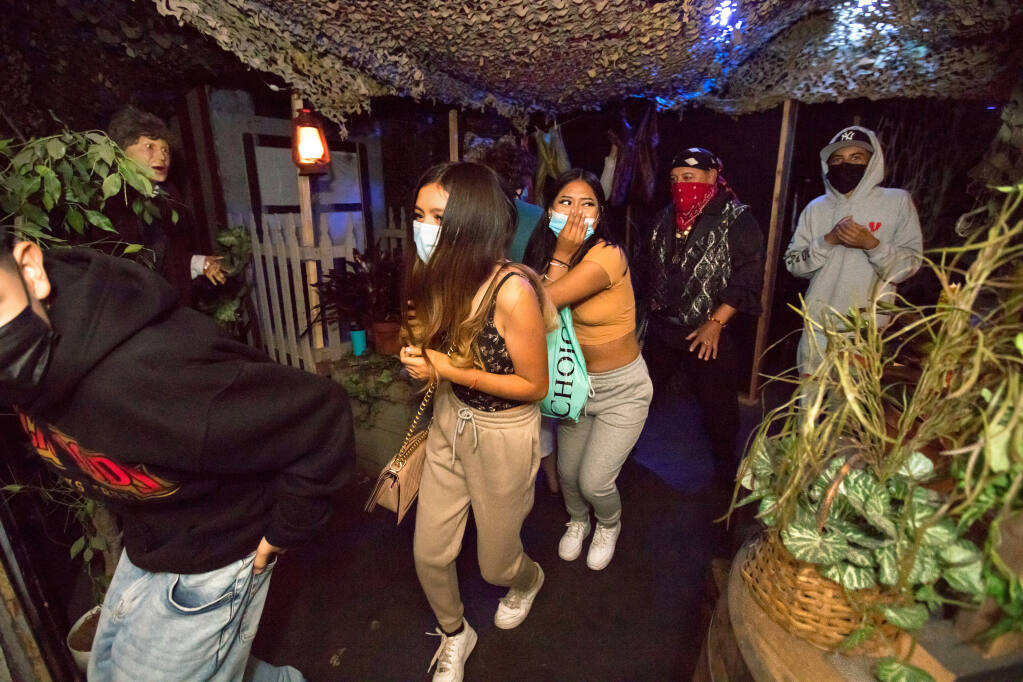 Members of over 20 law-enforcement, military and government agencies will be dressed in uniform and in costumes to hand out candy from the trunks of their decorated cars and trucks, said Officer Wagner.
"[There's] just a lot of fun things for kids to see. I think it's gonna be a really great time," said Officer Wagner.
Landeros said she looks forward to participating in this event in her signature fortune-telling costume with "jewelry and jingles" galore.