A passion for wine in Healdsburg
In a male-dominated field that is the wine industry, Monica López is clear about her role: "I'm here to run a business."
What started as a family project on her parent's land in northeastern Santa Rosa blossomed into a few family-owned businesses in the wine industry.
López and her brother, Francisco, co-own Aldina Vineyards, which is named after their parents, Al and Dina López, who first experimented with winemaking in 1999. The couple owned multiple businesses over the years and passed their entrepreneurial skills onto their children who started Aldina Vineyards in 2012. Monica is also the general manager of Bacchus Landing, a family-run business in Healdsburg.
"Bacchus landing is what I would call a winery collective. We have multiple tasting rooms at this property with multiple brands here" she said. "The brands are either family owned or small production brands similar to ours, where we all have, really, this opportunity to grow our brands together."
She sees connection as an opportunity, whether it means bringing their small-production wine into people's homes or inviting the community into their first brick-and-mortar location in Healdsburg.
"I think representation in any form is so important and I am just privileged to have that opportunity to be Latina in the wine industry. But what I will say is I definitely think that I've been embraced with an open mind," she said.
Just as she has felt embraced in this business by her peers, the brands she works for strive to "embrace [everyone] as if they were being embraced coming into our home."
For the love of wine: Belen Ceja, winemaker
The Aldina Vineyards team decided early on that it was important they had a winemaker with Latino heritage, López said.
Belen Ceja is the Aldina Vineyards winemaker, who has been with the company since its onset in 2012.
"Belen is our shining star; we are very lucky to have her," López said.
Ceja's Mexican grandfathers both were in the Bracero program before her family settled in Northern California. She was raised on generations of agricultural and viticultural knowledge that guided her path into winemaking.
to build relationships with their clients and their fans in order to make this dream come to life. I think that's what really makes Aldina very special."-Belen Ceja.]
Born in Napa County and raised in both Napa and Sonoma Counties, Ceja's family owns vineyards and her father is also a winemaker. She has memories working in the family winery's office and later in the tasting room when she came of age.
The connection to Aldina Vineyards started through family; Ceja's father, Armando, happened to help Al López with his first vineyard in the late 1990s. But it was Ceja's desire to pursue a career in the wine industry that led her to this collaboration with the López family.
Liquid art
Ceja's strong connection to wine was apparent early in her life and she pursued a degree in enology and viticulture at Fresno State. Soon after graduation she began to work at Aldina Vineyards and was the force behind the five wines they produced: cabernet sauvignon, rose, chardonnay, sauvignon blanc and the Bacchus red blend. Their 2016 cabernet sauvignon was recognized as one of Sonoma County's top 100 wines by Sonoma Magazine in 2020.
Ceja's passion for this "liquid art," as she calls it, was palpable. She bubbled over with enthusiasm as she described this creative process.
"They really let me do my own art. I do make wines that they [Francisco and Monica] love and appreciate that are just beautifully balanced. We love food, we want something to be enjoyed with food," Ceja said.
As a woman in this male-dominated industry, Ceja said she has seen the number of women in the field grow. Her alma mater has had increased female student's enrollment. In 2018, Fresno State's viticulture and enology department was 34.4% female. By 2022 it had increased to 52.7% female.
Despite that, she said one of the biggest challenges is getting the opportunity as a woman. It's not always what you know that will get your foot in the door, but who you know, she added. And she recognizes the opportunity in her Latina identity.
"Being a Latina in this industry, one of the cool things about us and working with Monica is that we stick together," Ceja said.
Sticking together also means connecting with other Latinos in the wine industry through local organizations such as the Hispanic Chamber of Commerce or Mexican American Vinters Association.
In addition to her role as a winemaker for Aldina Vineyards, Ceja also owns Heir of My Dream with her family. It's a wine collective, event space and a custom crush facility, according to the website.
People can bring their grapes to her business where they can hire her or someone on the team to make wine. She said this role allows her to work with "tons of winemakers" and it's helped her expand her knowledge on the many styles of winemaking and the different varietals that exist.
The industry has changed significantly since she started, with climate change being a major concern, Ceja said. She appreciated the dedication the López siblings have toward building Aldina Vineyards amidst an industry that is constantly evolving with changing trends, fires, and other factors that are often out of one's control.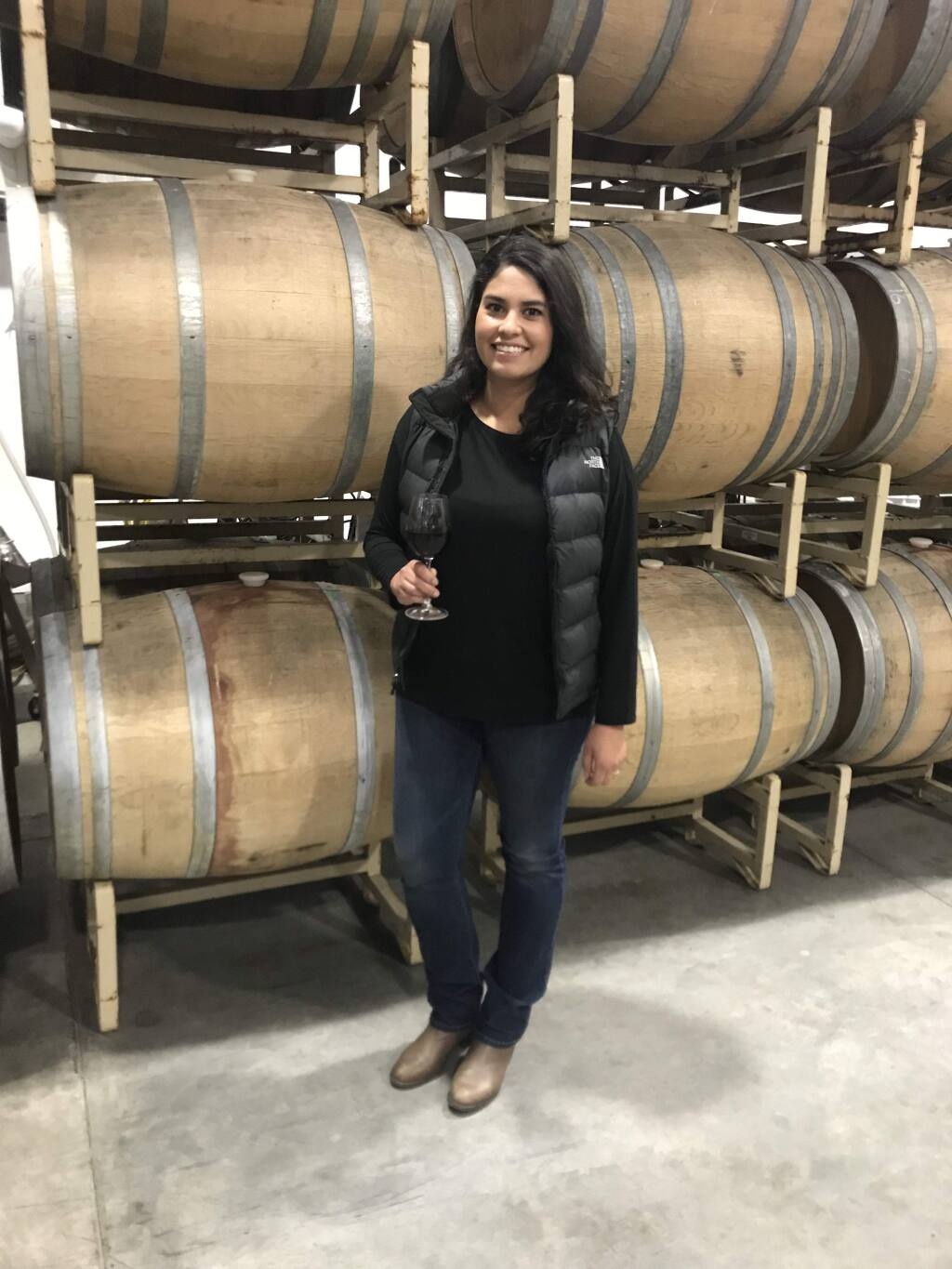 "They put all of their blood, sweat and tears to build a fantastic brand, [and] to build relationships with their clients and their fans in order to make this dream come to life. I think that's what really makes Aldina very special," Ceja said.